The Challenge of Evolving Buyer Behaviour
In the post-digital transformation era, two significant shifts have taken place in buyer behaviour - the demand for expertise and the desire for simplicity through self-service. These changes have transformed the way companies compete, with the focus shifting towards providing exceptional customer experiences. Just as B2C customers have grown accustomed to seamless interactions with companies like Uber, Netflix, Amazon, and Airbnb, B2B buyers now expect the same level of convenience and personalisation. Customer experience (CX) is now a primary lever for growth.
This transformation in buyer behaviour poses a major challenge for businesses. According to a survey conducted at the 2022 Forrester B2B Summit, 83% of marketers agreed that adapting to these changes in customer behaviour is the primary challenge they face in 2023.
Adopting a Customer Lifecycle Approach
To address these challenges, companies are turning to agile practices and adopting a customer lifecycle approach. This approach necessitates the convergence of operating teams under various 'xOps' umbrellas like CXOps, RevOps, or GTMOps. For example, a survey conducted by BCG on RevOps found that this convergence boosted sales productivity by 20% and increased marketing ROI by 200%. Some further statistics:
Sales reps are spending less and less time with the customer (5% according to Gartner insights into B2B buying).
65% of B2B decision makers agree that remote selling models serve them better than traditional models.
Digitally mature companies are 14% more likely to have a flexible sourcing model within the ecosystem.
Despite the disruptive shifts, a company's ability to drive adoption, consumption, and expansion across the customer lifecycle is what distinguishes successful organisations. PwC's research on the future of customer experience revealed that 32% of customers would stop engaging with a vendor after one bad experience, and 49% would walk away after multiple bad experiences.
Automation: Empowering Business Reimagination
Automation plays a crucial role in reimagining business models, not just by improving operational efficiency but by enabling cohesive experiences driven by data acquisition and analysis throughout the customer lifecycle.
Leveraging intelligent automation is key. Enterprise automation encompasses data automation, process automation, and experience automation, and the real value lies in the convergence of these pillars.
In a digital buying journey, information is the most valuable commodity. Therefore, connecting customer behaviour with engagement is critical. This involves embedding analytics and insights into core commercial processes, including:
Product behaviour analysis
Behavioural signals
Interaction data
Customer fit analysis
Truly intelligent lifecycle automation requires not just the acquisition and analysis of customer data, but being able to surface this in real-time to sellers through the channels they use, such as chat or CRM.
The Customer 360 Approach
Investing in GTM (Go-To-Market) technology yields returns on investment, payback period, and productivity covenants. However, insights from these new solutions are often utilised in isolation for pre-defined use cases or treated as temporary solutions. To enhance customer experience, it is crucial to consolidate fragmented insights into a complete picture of an account's interactions across marketing, business development, sales, finance, and success teams.
While a long-term goal for GTM teams can be to get all their data centralised (though this initiative is usually owned by IT), which includes data from "systems of action", their primary goal—and what a modern customer 360 approach empowers GTM teams to accomplish themselves—is to make the right data actionable for the right stakeholder in the short-term.
Putting this into action
Consistent across companies with successful growth strategies are capabilities to realise actionable data in the moment, but often the first step before automation is to reimagine your processes with automation in mind.
Consider a customer success manager has a QBR coming up, they get notified via a platform bot in your business communications platform; within the message, they can create the QBR deck automatically with a simple click of a button (the bot populates a templated deck based on the information it finds in the relevant apps).
Take a look:
Delivering Exceptional Experiences
Building trust-rich relationships is vital for attracting buyers. According to a LinkedIn study, 84% of customers begin their journey through a referral, and word-of-mouth referrals boast a trust rating of 92%. To deliver exceptional experiences, businesses must keep their target audience engaged through relevance, personalisation, and content development—an essential process known as customer journey orchestration.
Critical in preparing journey orchestration are the following:
Leadership: Customer journey orchestration is disruptive and requires heavy process augmentation - effective leadership is essential to steer this change key
Experience capabilities: Designing and managing the journey is an interwoven process coming from Marketing & Customer Success
Data and engineering capabilities: The data and analytical requirements to power journey orchestration is critical to delivering the agile component within customer journey orchestration
Customer service and support functions: CS functions spend the most time with customers and are able to support the prediction of sentiment shift from satisfied to unsatisfied customers
Beyond word of mouth, advocacy holds a trust rating of 76%, and using advocate-generated content can significantly increase engagement. Forrester identifies four types of advocates that companies can leverage in advocacy programs: Educators, Validators, Status seekers, and Collaborators.
Trigger-Based Engagement Use Case
In any customer or prospect engagement, numerous signals exist concurrently and must be captured, analysed, processed, and executed. Unfortunately, a large portion of data remains unused, and a considerable amount of intelligence is left unexecuted:
Between 60-73% of data is actually never used
A further 34% of intelligence is unexecuted
Trigger-based engagement addresses both of these issues, allowing for data activation and execution at scale. Let's look at this through the example of a CFO who leaves a strategic customer and joins a net new logo within your ideal customer profile: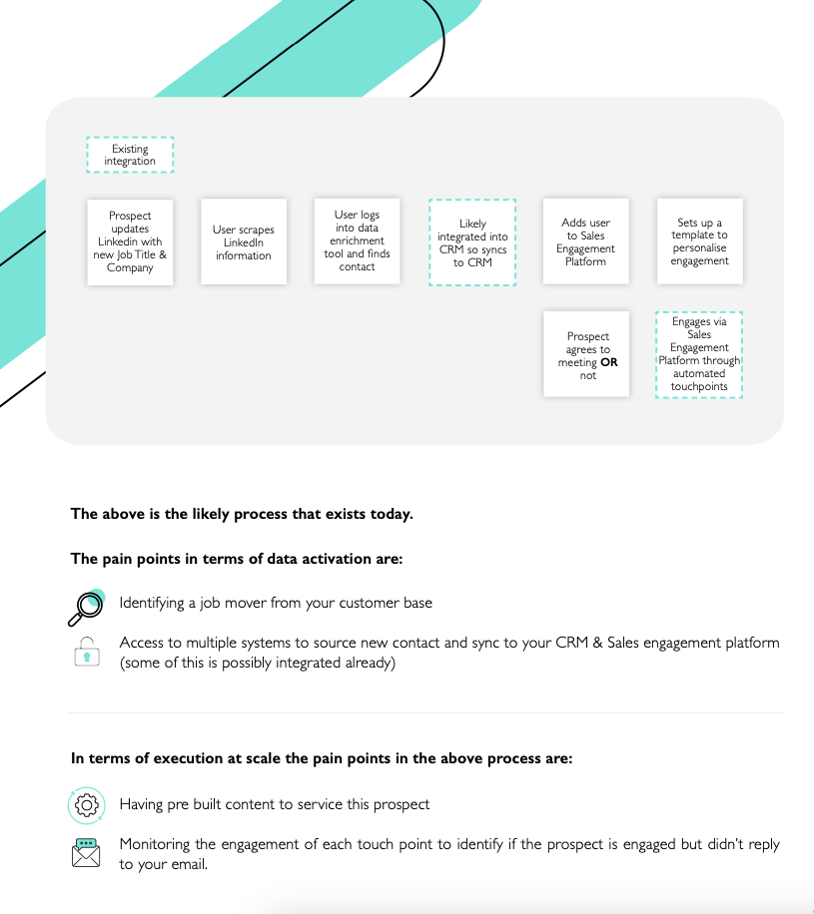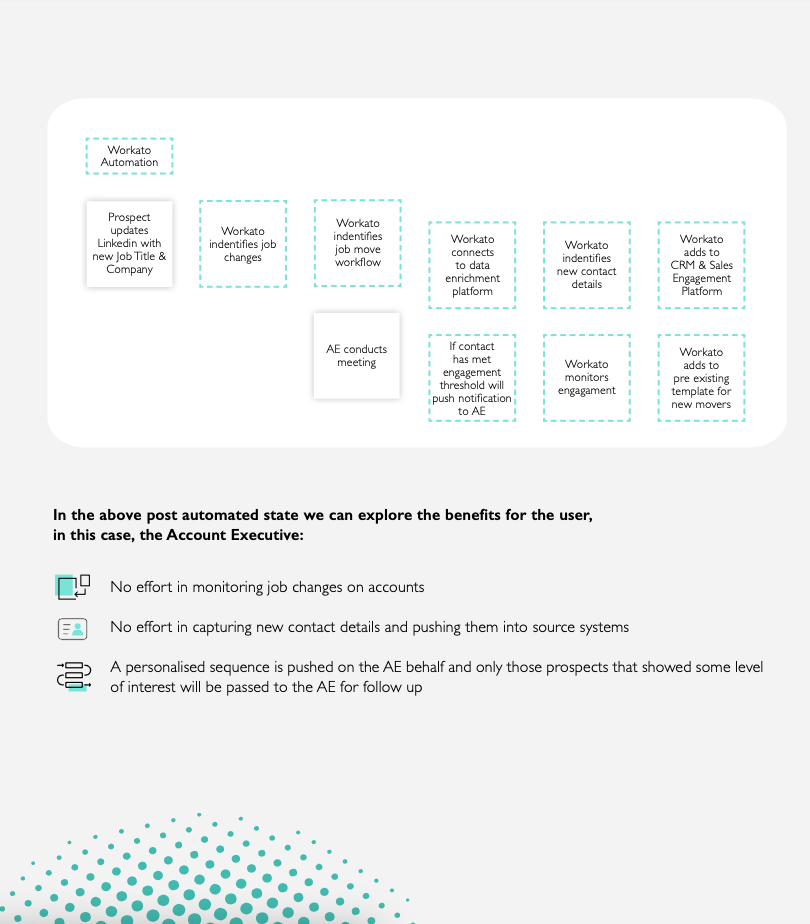 Succeeding in this new era of digital transformation
In the post-digital transformation era, providing exceptional customer experiences has become a key differentiator for businesses. To succeed in this competitive landscape, companies must adopt a customer lifecycle approach, leverage automation intelligently, and master customer journey orchestration. By embracing these practices and focusing on delivering exceptional experiences, businesses can drive growth and secure their position in the market.
Get in touch to find out how we can help.